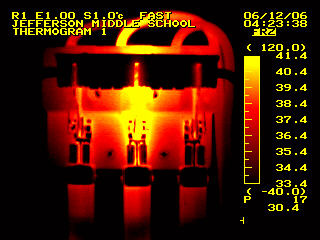 If your company's line of work involves the production of tangible products, we at Infrared Consulting Services know how important it is that every component of your production facilities runs as smoothly as possible. If the slightest malfunction occurs, you risk the possibility of your entire timetable going off-kilter. One valuable form of prevention against time-killing equipment failures is infrared thermography. You can use infrared thermography at your production headquarters to check for signs of wear and hazards in the machinery and other materials you use on a daily basis. Infrared problem prevention services are not only efficient for spotting potential malfunctions, but they are the safest means of doing so for your equipment.
How Does Infrared Thermography Work?
Infrared thermography is best defined as a method of detecting the heat (or thermal energy) given off by something or someone. Humans cannot detect thermal energy with the naked eye and have to use special equipment to pick it up. Areas at risk of breakdown typically give off higher than average levels of heat, making infrared thermography the best way to detect any problems arising in your production machinery systems. This method of troubleshooting first arose during the 1970s and has proved useful ever since. Engineers now rely upon electrical infrared surveys to look for issues in their equipment before they can occur and cause harm to production.
These surveys are first performed at the production site, usually far away enough from the equipment under inspection to ensure personal safety, while the production plant itself is fully operational and equipment is working at full capacity.
Certified thermographers can then go on to incorporate the survey readings into a maintenance report, which will be delivered by email. Your report will list the source and solution of any problems detected, the placement and name of the equipment evaluated, a depiction of the reading with a colored chart, information on the boost in temperature and the extent of the malfunction, and details on what part of the equipment is faulty.
Why Should I Choose Infrared Thermography for My Plant?
Evidence suggests infrared problem prevention is safe for your equipment, highly cost-effective, quick and efficient. With an infrared reading, you can save thousands of dollars in lost production and damage to equipment.
Readings can be performed without interruption of regular production procedures and during your normal working hours, allowing you to continue production during the process. An infrared survey can inspect thousands of termination points in one day, making the process much faster than traditional inspections. This means you'll see results quicker.
Should you decide to utilize infrared thermography for your industrial plant, Infrared Consulting Services hires only the best certified thermographers to perform this service. If you have questions or are interested in our services, feel free to contact us by email or by phone.
https://irtest.com/wp-content/uploads/2016/01/Midd001.jpg
240
320
I R Test
https://irtest.com/wp-content/uploads/2014/11/infrared-testing-service-logo.png
I R Test
2016-01-21 08:00:53
2016-01-14 13:24:35
Infrared Problem Prevention Keeps You Safe