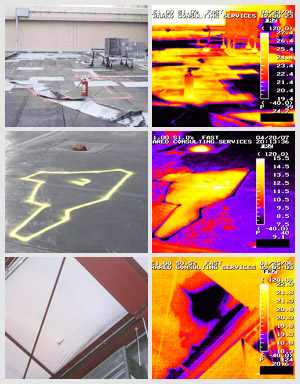 It's difficult to fix what you can't see. ICS technicians use infrared imaging techniques and their years of experience to locate, inspect and provide you with information you need to solve problems before they become serious.
Infrared Roof Moisture Detection
As the sun shines on the roof of your building, hidden threats to the integrity of your building heat up. Water, mold and other moisture-related threats retain this heat.
After sunset, ICS conducts a detailed infrared roof moisture detection scan. These heat retaining masses are revealed by our equipment. Our detailed survey provides you with the information you need to accurately, efficiently and successfully repair the roof.
Why is this important? Trapped moisture can not only cause water damage to the building. Mold formation can cause pose a health threat to you and your employees. Left untreated, these threats can damage the building, reduce it's value, cause work stoppages, threaten the health of your workforce and even lead to serious structural failure than can cause damage to property and loss of life.
Contact ICS today to schedule an infrared roof moisture detection inspection. Or call Toll Free at 1-888-925-4404. Having accurate information can help you manage your facility, make efficient and needed repairs or simply know for sure that your building is providing you and your employees a safe working environment.
ICS is a trusted industry leader that's been providing thermal imaging surveys and infrared inspection services for 35 years.
We provide wide range of Infrared Services
Infrared Electrical Systems Survey – Quickly inspect a large amount of electrical equipment.
Infrared Roof Moisture Survey – Accurately locate and quantify roof moisture.
Infrared Roof Evaluation Survey – Complete documentation of the existing roofing conditions.
Infrared Building Envelope Performance Survey – Document thermal performance of walls and windows.
Infrared Wall Moisture Survey – Protect structural integrity, identify mold and insect infestations.
Baseline Infrared Survey – Document the current condition of certain building systems.
High Voltage Electrical Infrared Survey – Promote safety and reliability of power systems.
Infrared Mechanical Systems Survey – Document condition of boiler jackets, piping and refractory linings.
Infrared Steam Utilities Survey – Find leaks, blockages and other hidden problems in steam systems.
Boiler And Refractory Infrared Survey – Find leaks, blockages and other malfunctions in sub-surface manifolds and piping.
To discuss your infrared imaging inspection requirements an infrared imaging professional, please call us  Toll Free at 1-888-925-4404.
https://irtest.com/wp-content/uploads/2014/09/infrared-testing-service-image-roofmoisture-color.jpg
240
320
I R Test
https://irtest.com/wp-content/uploads/2014/11/infrared-testing-service-logo.png
I R Test
2015-10-05 07:35:28
2016-06-16 19:51:25
Infrared Roof Moisture Detection – Find & solve problems before they become serious!