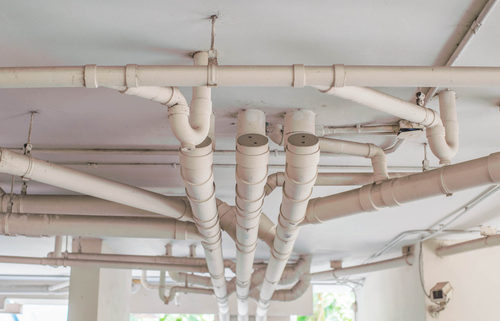 Identifying roof moisture in a commercial property's roof system is vital to protecting a business owner's investments and securing the safety of workers, visitors, residents and anyone else who has cause to be inside the facility. Thanks to today's infrared detection technology, even the largest roofs can be inspected without destruction and in a timely manner.
IR thermography technicians use four types of surveys to detect moisture on commercial roofing:
On-the-roof (also called on-roof or walking the roof) moisture survey
Most roof moisture surveys done with infrared thermography are performed by technicians using their equipment while standing on a business' roof. A visual inspection by trained individuals can identify tears and poor seals around equipment and pipes on the roof where water is draining inside the facility, as well as detect places where unseen leaks may be wreaking havoc on the roof's structure and underlying insulation.
Under-the-roof (or under-roof) moisture survey
IR detection can be done from underneath the roof, between the interior ceiling and the roof structure. By using infrared thermography, IR Test technicians can find specific spots where moisture is being trapped under the roof so that you can repair only those areas.
Elevated roof moisture survey
From an elevated position above the roof, IR thermographers can create a highly accurate roof moisture map of even the largest commercial roof. Few signs of leaks are missed from this perspective. Naturally, an elevated roof moisture survey is best done on a clear day.
Aerial roof moisture survey
This is the most efficient way to conduct a commercial infrared roof moisture survey. Every nook and cranny of the roofing is exposed, so nothing prevents the IR thermography from detecting even the smallest signs of a leak.
Keeping a commercial building's roofing insulation dry will help the roof last longer, keep electrical systems from malfunctioning, prevent the interior ceiling from falling in and eliminate mold growth. Infrared thermography identifies specific areas in need of repair, which means owners and contractors know exactly where to concentrate their work. Spot repair is significantly less expensive than replacing an entire roof.
Before any business owner or manager makes the decision to repair or replace the roof of a commercial building, an IR thermography roofing moisture survey is vital to saving time and unnecessary expense. Don't assume your new roof is leak-proof, either! Get it inspected now for peace of mind (and safety) the rest of the year.
https://irtest.com/wp-content/uploads/2017/03/Blog-20323200-ceiling_pipes.jpg
333
500
I R Test
https://irtest.com/wp-content/uploads/2014/11/infrared-testing-service-logo.png
I R Test
2017-03-23 08:00:47
2017-03-22 16:00:51
4 Types of IR Roof Moisture Surveys