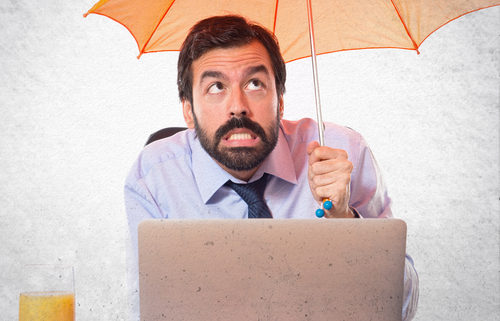 Infrared applications can sometimes be difficult to understand. This is especially true with commercial roofing thermography, since there are many different shapes, sizes, insulations, decks and more when it comes to the design of a roof. However, the main goal of any type of roof is to keep water out of the interior of the building, which is where thermographic imaging comes into play. When maintaining a commercial flat or low-sloped roof, there are many ways a thermography inspection can fit into the plan.
Inspect and Scan Before Replacing
A low-sloped roof generally has a slope of less than 3:12, while a flat roof has no slope at all. These types of roofs can cause major challenges for maintenance professionals, since mechanical drainage systems are used to ensure water is quickly removed from the roof. But if the roof eventually leaks, how do you know whether it's time to replace it or if the holes can just be repaired?
Replacing a roof can be an expensive burden for companies. However, getting a commercial roofing thermography inspection can help save a lot of money, time and headaches. Thermography inspection professionals can use their thermography instruments to find any hidden roof moisture trapped inside the roof. At this point, the owner can decide whether they just want to patch up the problem areas or spend the extra money to replace the entire roof. Many factors go into making this determination.
Conduct IR Testing Prior to Purchasing a Building
Prior to purchasing a commercial building, business owners should conduct a commercial roof inspection to determine what kind of shape their roof is in. Roofs are not cheap, so if a building has a roof that is 30+ years old, there's a chance it has some wear and tear if it hasn't been replaced recently. A simple thermographic roof moisture survey can help you determine whether you're making a good investment in the building.
How IR Testing Works on Roofs
The science behind thermographic imaging is fascinating. When the sun transfers energy to the roof during the day, it heats up. At night, the roof radiates the heat back with a process known as radiational cooling. If a roof has any sort of moisture in the walls, it will remain warmer longer since wet areas retain heat longer. When a commercial roofing thermography inspection is conducted, these areas of uneven heat can be quickly identified as areas needing attention due to the presence of moisture.
What Infrared Testing Accomplishes
By completing a commercial roof inspection on a flat or low-sloped roof, business and property owners can save a lot of money and potential damage later on. When reviewing a roofing plan for a new building, an older building you're looking to purchase or if you're determining whether the roof needs to be repaired or replaced, a thermography inspection is the most efficient and effective way to go.
Infrared Consulting Services has been in business for nearly 30 years and has helped keep thousands of commercial properties in great shape due to thermographic imaging. If you need help setting goals for your roofing plan review, be sure to contact us to see how we can help.
https://irtest.com/wp-content/uploads/2017/04/Blog-10406200-goals-of-a-roofing-plan.jpg
500
500
I R Test
https://irtest.com/wp-content/uploads/2014/11/infrared-testing-service-logo.png
I R Test
2017-04-06 08:00:43
2017-04-02 16:49:18
Goals of a Roofing Plan Review