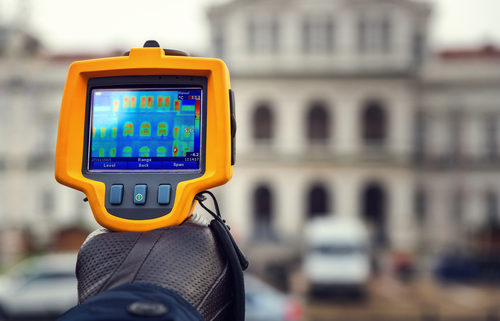 If you're thinking about scheduling an infrared roof moisture survey for your company's building, you're making a good decision. A moisture inspection is considered preventive maintenance because it can point out potential problems before a major issue arises. Many business owners overlook the importance of preventive maintenance, but a moisture inspection is definitely not something to take lightly. You may be wondering exactly how the process works and what benefits you get from it. We've outlined the process so you'll be confident when the work is being done.
The Process
An infrared roof moisture survey uses a diagnostic test tool to locate visible heat, which comes from moisture potentially leaking under the roof of your building. During the daytime, the heat from the sun warms the roof. At night, the heat radiates back into the atmosphere. If an area of your building's roof is wet, it will have a higher mass and, as a result, will retain the heat for a longer duration.
Certified thermographers use their instruments to detect the differences in those dry and wet spots. When they come across wet spots, they can identify them as problem areas to be addressed sooner rather than later.
Recommended Corrective Actions
It's better to do a roof-wide survey to identify potential problems rather than do a roof-wide repair when the problem has become too big to be corrected in individual spots. A team of certified thermographers will provide your company with results of the infrared moisture scan and recommend actions to be taken. You may only have some surface moisture, but you could also have moisture trapped deep in the roofing system to cause larger issues.
If you've waited too long to have a survey completed, you may not be happy with the recommendation you receive. However, if you schedule a survey periodically, chances are you'll only have to do minor repairs on different parts of the roof.
When you're looking for infrared inspection services for your business, contact us for more information. We can provide you with more in-depth information about your specific roof type and what we typically find when we perform roof moisture inspections. Once you understand the long-term benefits of scheduling a survey, you'll quickly realize it's worth the upfront cost to do it routinely.
https://irtest.com/wp-content/uploads/2016/08/roof-moisture-inspection-irtest.jpg
334
500
I R Test
https://irtest.com/wp-content/uploads/2014/11/infrared-testing-service-logo.png
I R Test
2016-09-01 08:00:33
2016-08-23 11:29:30
What Happens During an Infrared Roof Moisture Survey?