Ultrasonic Survey Technology tracks the condition of the valuable electrical assets. It increases factors like safety, durability, and reliability of the particular equipment. This blog is going to talk about the aspects and applications of ultrasonic survey technology.
What is Ultrasonic Survey Technology?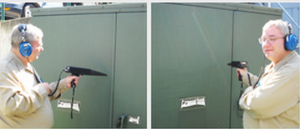 Most problems occurring in machines and electrical equipment produce sound and vibration at ultrasonic frequencies (greater than 20kHz) that cannot be detected by the human ear. Ultrasonic Survey detect faults or loopholes in high voltage equipment and machinery. These problems cannot be identified by either vibration tests or infrared surveys.
What are the typical applications of Ultrasonic Survey technology?
Any type of mechanical impairment or defects will generate ultrasonic sound. Be it the gear or the bearing or any other mechanical glitch, ultrasonic survey technology will provide predictive analysis of varied kinds of faults, such as:
Faulty welds
Defective steam traps
Holes
Gasket failures
Leaky valves in pipelines
Leaks in compressed air systems
Electrical discharges
ICS Taking Ultrasonic Survey Technology to New Heights
ICS provides our customers with the most advanced forms of both direct contact ultrasonic testing and airborne ultrasonic testing for:
Detection of arcing, tracking, and corona discharge in high voltage equipment
Infrared Surveys and airborne ultrasonic scanning services that offer crucial insurance against troubles like outages, equipment damage, or fire.
Direct contact ultrasonic testing measures the noise output in decibels predicting problems or performance level of bearings.
Leak detection in vacuum systems, steam traps, vessels, heat exchangers, gaskets and seals, and ductwork
https://irtest.com/wp-content/uploads/2014/07/ultrasonic-testing-129x129.png
129
129
I R Test
https://irtest.com/wp-content/uploads/2014/11/infrared-testing-service-logo.png
I R Test
2014-07-21 08:42:38
2016-06-16 20:38:48
What is Ultrasonic Survey Technology and What are its Scopes of Applications?