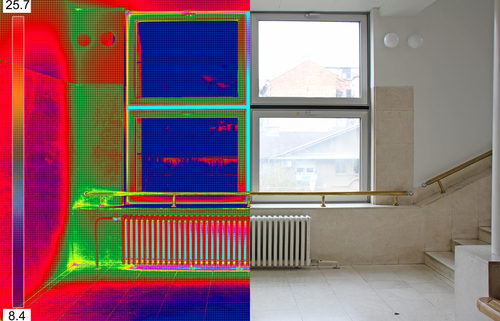 Companies today are beginning to see the importance of conducting routine infrared testing. In fact, IR thermography testing is required in some places. Infrared technology is most commonly used in detecting roof moisture, electrical inspections, building envelopes, high voltages and other objects and structures. However, there are other uses people may not be aware of. Proper awareness of the benefits of infrared technology outside of the basic uses will help prevent potential costly issues. Here is a list of four uses for infrared technology you may be able to benefit from.
Transformers
Fluid-filled transformers must have the proper liquid level to perform properly. Over time, the gauges can become difficult or impossible to read, leaving people to guess at what the liquid level is. Thermal imaging services can help detect the fluid level in transformers and indicate when there's a radiator cooling issue. If you have a warm transformer tank with a cool radiator, you know there's a risk of the transformer overheating.
Terminations and Splices
IR thermography is typically used for terminations and splices as a safety precaution. In many cases, before professionals go underground to work on splices, infrared testing must be performed to ensure safety. Infrared testing can also identify problems relating to conductor integrity.
Switchgears
Identifying possible thermal failures of important switchgear equipment is crucial for worker safety. In some cases, permanent thermal sensors have to be installed to identify problems immediately. Outdoor switchgear assemblies have strip heaters to regulate the temperature during different times of the day or year. Thermal imaging services come into play when there is no detection of heat, meaning there's a problem that needs to be addressed before a larger issue occurs.
Items Not Carrying Current
Most of the time, infrared consulting services will take a quick look at the entire job site, in addition to the specific equipment they're testing. The reason behind this is to detect heat from objects that shouldn't be carrying current. Inductive heating can be a hazard to workers and equipment and it would go unnoticed without infrared testing.
Another item generally not carrying current is a ground connection. If infrared testing indicates a ground connection has increased in temperature, it signifies a potential problem.
Infrared technology has many more uses than the common ones associated with it. At Infrared Consulting Services, we know the ins-and-outs of infrared technology and can help in any industry. For other little-known uses for infrared technology or to learn how we can help provide your company with routine IR testing, contact us at any time!
https://irtest.com/wp-content/uploads/2016/10/blog11016200-1.jpg
334
500
I R Test
https://irtest.com/wp-content/uploads/2014/11/infrared-testing-service-logo.png
I R Test
2016-10-27 08:00:45
2016-10-27 18:01:14
Four More Little-Known Uses for IR Thermography