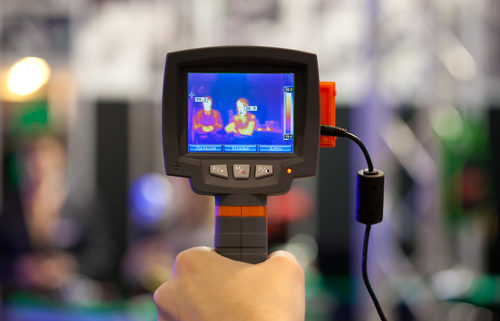 Every business owner knows the importance of preventing problems before they have the chance to escalate so why do certain potential problems slip our minds? Take your commercial facility's ventilation systems, for instance. People rarely notice the signs of energy leaks until they receive their utility bills for the month. Yet, even after this shock to the wallet, most people fail to recognize just what is causing this spike in energy prices for their facility.
Eventually, they may seek thermography inspection services but not before the problem becomes unmanageable. Here is how you can effectively identify signs of air leaks within your facility and take full advantage of an infrared inspection before your problem gets worse.
Look for Cracks
While these methods are not fool-proof, they may prove to be a great place to start in terms of locating air leaks. One method involves slipping a small piece of paper or a dollar bill into one of the spaces in your facility, such as a window or door. You'll know you have a leak if the dollar can be easily removed through the spaces. Additionally, you can have a helper stand outside the facility while you point a light at any spot you suspect could contain a crack. If any large crack exists in the structure, you have a definite leak on your hands and should contact a 
thermographic scanning
 professional.
Perform a Pressurization Test
If neither of the above-mentioned methods help you uncover any leakage issues, you can always turn to a pressurization test. To do this, wait until a particularly blustery day to switch your exhaust fans and/or furnaces off. Afterward, close any venting spaces that lead to the outside. You can then walk around your facility and test the areas you suspect of leakage with your hand or a lighter to see if there are any signs of wind leaking from the outside.
Examine Your Facility
You will most likely find leaks around doors or windows. This proves especially true if your facility is an older building. Check them out by grabbing them firmly and moving them side-to-side. If you find they creak or wiggle, you can safely suspect a leak is present.
Additionally, you can check other ventilation and circulation systems around your facility just as easily. If you see any loose areas around your foundation or pipes, it's highly likely you have a leak on your hands.
There are a few other areas you can and should check as well:
exterior of your chimney
outdoor plumbing
corners of the facility's exterior
If none of these tests are successful, another easy method of detecting leaks is 
IR thermography
. In fact, thermographic scanning is the most effective means of detecting leaks and other problems due to their highly accurate but non-intrusive nature. 
Contact us
 today to learn how you can use IR thermography to help your facility save money and be more energy efficient!
https://irtest.com/wp-content/uploads/2016/08/spot-air-leaks-irtest.jpg
334
500
I R Test
https://irtest.com/wp-content/uploads/2014/11/infrared-testing-service-logo.png
I R Test
2016-08-30 08:00:12
2016-08-23 11:19:14
How to Spot Air Leaks – And What to Do About It